The region
B-Lodge is located in the village of Kirchbach in the state of Carinthia, Austria's southernmost province, a region that experiences warm summers and cold winters. Kirchbach is just a stone's throw away from Italy and thus offers the opportunity to visit Venice or even Bled (Slovenia) for a day trip. Kirchbach offers peace and quiet for those who seek peace and quiet, but is also centrally located for active holidaymakers. From the B-Lodge, a free ski bus takes you to the valley station of the Millennium Railway, from where you can reach Carinthia's largest ski area, the Nassfeld Ski Arena, in just a few minutes. Skiing, cross-country skiing, tobogganing, and even ice-skating on natural ice are all possible in the vicinity.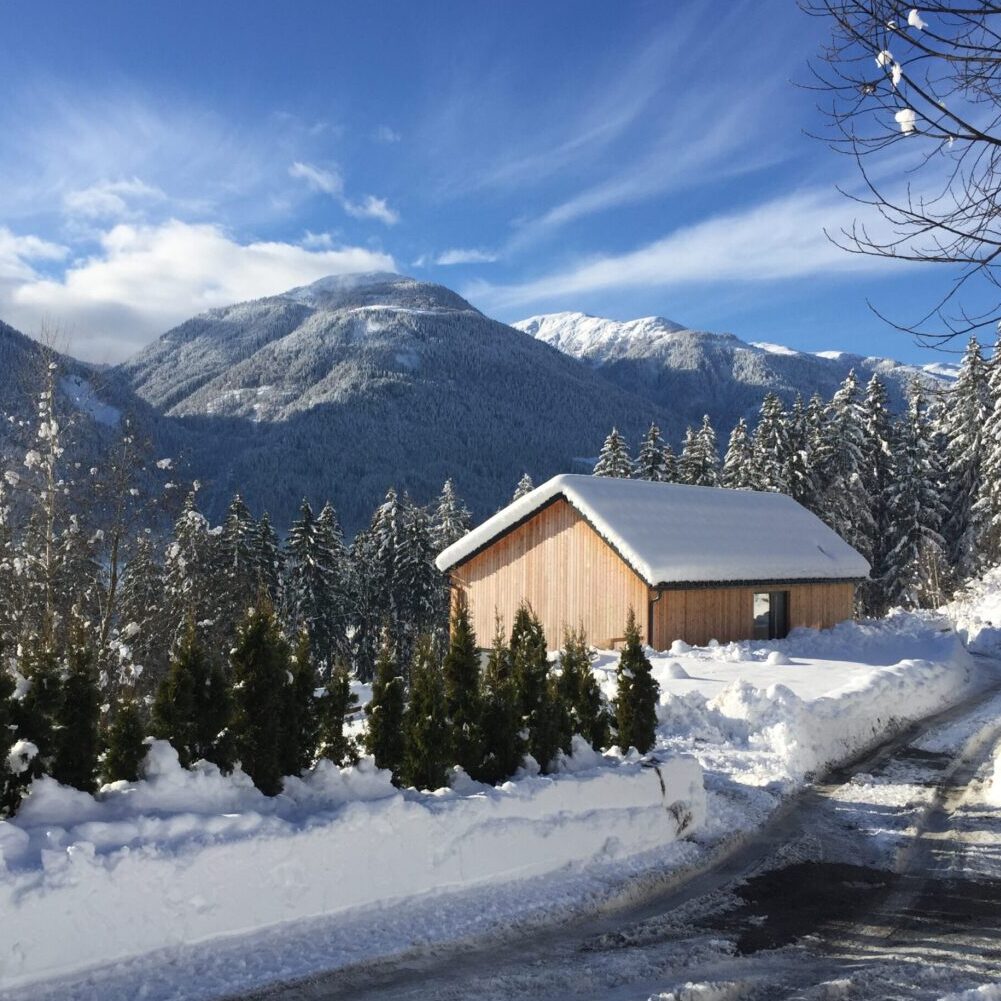 Kirchbach is just a stone's throw away from the Nassfeld-Pressegger See ski resort, which has 110 kilometres of slopes and 30 modern gondolas and lifts. Skiers and snowboarders visiting this ski resort will find a wide range of blue, red and black pistes for all levels. Thanks to the region's exceptional microclimate, Nassfeld is blessed with plenty of snow in the winter months. And even if the weather gods don't want to cooperate, almost all slopes have snow cannons. With such a location and infrastructure, it is no wonder that Nassfeld has received a number of awards and been named one of Austria's top ten ski resorts. Thanks to its location, this ski resort enjoys extra hours of sunshine and unique mountain panoramas. Enjoy the Austrian "gemutlichkeit" coupled with an Italian lifestyle in one of the 25 ski huts and mountain restaurants. The winter season runs from early December to mid-April.
Cross-country skiing
The Nassfeld region is one of the largest cross-country skiing centres in Carinthia with trails between 600m and 1500m above sea level. Some of these trails lead through snowy forests, while others involve challenging climbs for advanced cross-country skiers. Several trails even lead over the Nassfeld Pass into neighbouring Italy. Equipment is available for hire.
For more information: https://www.nassfeld.at
Ski-alpinism
Thanks to a special microclimate, the south of Carinthia is blessed with a thick layer of snow during the winter months, making it a paradise for skiers and snowboarders looking for fresh paths on the pristine slopes of the Carnic and Gailtaler Alps. A number of rental companies offer all the equipment needed for skiing.
For more information: https://www.nassfeld.at
Winter hiking
Those who prefer to enjoy the quiet side of winter can put on a pair of snowshoes and explore unspoilt nature. Snowshoeing is the best way to explore the region during the winter months, from the flat meadows to the steep mountains. Qualified guides are available to show you the best of the region.
For more information: https://www.nassfeld.at
Tobogganing

In glorious sunshine or by torchlight, tobogganing is a great winter activity for the whole family. In the Nassfeld-Pressegger See, there are five toboggan runs available. Toboggans can be hired on site.
For more information: https://www.nassfeld.at
Ice-skating
Pressegger See near Hermagor is one of the first lakes in Carinthia to freeze over in winter, making it a popular skating rink for skaters of all ages and levels. Skates can be hired on site. You can also skate on the natural ice of Weissensee, 45 minutes from Kirchbach.
For more information: https://www.nassfeld.at
Horse and sleigh rides, lama trekking
Feel the power of your horse when you ride through the winter landscape or enjoy a romantic trip in the sleigh in the snow. In winter, a guided walk with the curious and friendly llamas is a special experience.
For more information: https://www.nassfeld.at
Due to its southern location, Kirchbach has warm summers. Situated in a wide valley that is crossed by the Gail River, and close to several lakes, it offers endless possibilities for summertime relaxation.
Hiking

From B-Lodge you can go straight into the forest from where marked hiking trails start. The hiking trails at Kirchbach's Mart Church begin at 600 m above sea level and go to sunny heights and meadows at 2371 m. From mid-June to mid-September, free guided mountain, flower, herb and mill walks are on offer. In total, more than 1,000 km of signposted hiking trails cross the extreme south of Carinthia, offering something for everyone. There are the "Karnischer Höhenweg" and "Gailtaler Höhenweg" long-distance hiking trails, "Marienpilgerweg" and "Weg des Buches" pilgrim routes, hiking trails going up to heights of 2800 m, themed hiking trails, Nordic walks – one of the most popular of which is the "Seerundweg Pressegger See" – and more. Along the way, you can stop at one of the many mountain huts, where traditional local dishes are served.
Bicycles
The R3 cycle path is there to be enjoyed by the whole family. It starts in Kötschach-Mauthen and continues via Kirchbach almost constantly along the Gail River to Villach. (96.2 km | 6 hours | difficulty level: easy)
The Gailtal cycle path R3 runs parallel to the Italian border and mainly runs slightly downhill along the Gail. The well-marked cycle path leads through small villages, past old farms and inns, where local specialities and homemade products such as "Gailtaler bacon" and "Gailtaler Almkäse" are served. The path runs in a west-east direction and is particularly suitable for cycling with the family. The stunningly romantic Gitschtal cycle path R3b connects the Gitschtal and Weissensee with the Gailtal cycle path R3.
Should you have a small breakdown along the way, there are several bicycle service stations on the Gailtal cycle path at the following locations:
• Lido Hermagor
• Wacky Gail Bridge
• Görtschacher Gail Bridge
• St. Stefan Gail Bridge
• Kirchbach Gail Bridge
Bicycles can be hired in the vicinity. Next to the Gail is an edible landscape with berry bushes of raspberries, blackberries, and other berries. The fruit from the fruit trees is delicious! This edible landscape is located in Gail Bay, in the dam area. The bay itself is like a "natural playground", meaning you can swim and paddle in the river, have a BBQ or just relax after walking, Nordic walking, cycling or hiking. There really is something for everyone. The edible landscape is located directly on the Gailtal cycle path R3 near Unterdöbernitzen.
For more information: https://www.nassfeld.at
Paragliding
In the Municipality of Kirchbach there is an officially approved launching site for hang gliders and paragliders.
Launching site: Stöfflerberg at 1,131 m
Landing site: Kirchbach, opposite the swimming pool, 642 m
Information and registration at the tourist office in Kirchbach:  Tel: + 43 4284 228 33
Swimming
Within walking distance of B-Lodge, there is the solar-heated Kirchbacher pool. A beach volleyball court and a playground offer enough space for all activities, and the large lawn invites you to relax. Family-friendly access, family season tickets and entrance fees make the outdoor pool in Kirchbach a playground for the whole family and turn summer into an experience.
In summer, the Gail River is the ideal place to cool down! The running water refreshes even on the hottest days and gives you hours of fun in unspoilt nature. Surrounded by shady trees, colourful vegetation and the local fauna, you can enjoy a unique experience.
Whitewater enthusiasts will find about 30 kilometres of courses on the Gail. Rafting, kayaking or canoeing is possible.
The natural Pressegger See, a lake surrounded by mountains, forests and meadows, is 10 minutes' drive. With a water temperature of up to 28 °C, this "Gail Valley Spa" is one of Austria's warmest lakes. One of the reasons for the pleasant temperatures is the sunshine in the region, which invites swimmers to sunbathe on the beach. In addition to its warmth, the Pressegger See is particularly attractive for the quality of its drinking water. Pedal boats and various water sports equipment are available for hire.
Only a 45-minute drive away is the Weissensee with its natural surroundings. Only one-third of this lake's banks are built up. Most of the area has remained natural and is used as an active and recreational area.
Here visitors can swim, dive, surf, paddle and splash in the lake, with water so clean that you can drink it.
Visit the Sporttreff Brandtner where you will find a water ski school, wakeboards, parachute jumping, inner tubes and banana boats. Get an adrenaline rush as you dive off a cliff under the watchful eye of a trained guide. Rafting and canyoning tours let you explore the area around Weissensee through its rivers and gorges.
Would you rather take it easy? Try kayaking or canoeing.
You can also explore the Weissensee underwater! With visibility up to 20 metres, this lake is one of the most beautiful diving areas in the Alps.
For more information: https://www.weissensee.com
Mountain Biking
In the town of Kirchbach there are three official mountain bike routes with a total length of about 31,60 km .
Circular course Reisach – Jochalm – Reisach: 18,7 km / 962 hm / 3, 30 hours ride time
Kirchbach – Stöfflerberg –  Wassertheurerberg :6,6 km / 582 Hm / 1,60 hours ride time
Treßdorf – Staudachberg – Hochwart:6,3 km / 643 hm / 2 hours ride time
In the vicinity there is a network of MTB and cycle paths of about 730 km and you can even cross the border into Italy.
For more information: https://www.nassfeld.at

Golf
In Waidegg, a 3-minute drive from B-Lodge, is a generously landscaped (70 ha) and scenic 18-hole golf course (640 m altitude). Experience pure golfing pleasure surrounded by Carinthian nature.
18-hole championship course
Panoramic 6-hole course (par 3)
Putting & Chipping Area
270 m range
Club house, restaurant / bar
Golf school
More information: www.nassfeld.golf

Food and drink
Food lovers will love this region thanks to its delicious local products such as the famous cheese and dried bacon from the Gailtal, a selection of fresh fish from Austria's cleanest mountain lakes and organic delicacies from nearby villages.
In Gailtail and Lesachtal, the world's first Slow Food Travel destination has been established, where artisans and food producers love to pass on their knowledge to their guests. You can bake bread, brew beer, make polenta, learn how honey is made, and much more besides!
For more information: www.slowfood.travel